study
BSE Class of 2021 achieves 94% placement success rate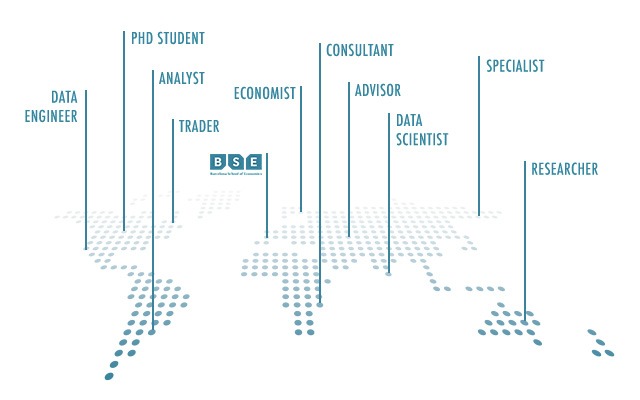 The Class of 2021 continues a consistent trend of high placement rates for BSE graduates.
Within six months of graduating from the Barcelona School of Economics, 94% of the Class of 2021 (135 out of 143 students) successfully obtained a job or entered a postgraduate program related to their BSE Master's studies, according to data reported to BSE Career Services by the class.
The strong result confirms the demand for the skills, knowledge, and experience that students get from the BSE Master's degree programs. It is also a reflection of the efforts students make throughout the academic year to develop their career goals, identify opportunities, and present themselves as outstanding candidates.
To find their first placement after the Master's, many BSE students take advantage of the services offered by BSE career counselors, who provide individual guidance, training sessions, and recruiting events in target sectors with partner employers and institutions.
Alexandre Marin '21 is one student who benefited from the connections and training provided by the BSE career counselors. "Being a partner with the OECD, the BSE Career Services gives us students a great exposure to the OECD Directorates. In addition, Career Services taught me the skills and gave me the support I needed to obtain my internship," he said.
"From Career Service's perspective, it is very satisfying to see the results of our work during the academic year," said Helga Kirchner, BSE's Institutional and Academic Relations Manager. "On the student side, 94% of Class 2021 got placed in our top employers and institutions, and on the recruiter side, they keep trusting BSE year after year as a source of talented and skilled students. It is very enriching to feel that we are part of their success."
Career Placement Report for the BSE Class of 2021
Read the full Barcelona School of Economics Class of 2021 Career Placement Report below:
About 3 out of 4 students chose a professional career path
Out of those placed in the Class of 2021, 74% chose to enter or return to the professional work force, while 26% entered a PhD or other post-graduate program of study immediately after the Master's program.
PROFESSIONAL VS. ACADEMIC CAREER PATHS
Students chose to work in a variety of sectors
The employers chosen by students were (from most chosen to least): Government and Authorities (29%), Consulting Firms (23%), Financial Services (17%), Research and Academic Institutions (10%), Technology (10%), International Organizations and Non-profits (6%), and Other Industries (5%).
PROFESSIONAL PLACEMENT BY INDUSTRY
Examples of employers hiring BSE graduates in the Class of 2021 (# of students hired)
Industry
Example employers
Government & Authorities
29%
European Central Bank (9), Banco de España (3), Airef (2), Central Bank of Iceland (2)
Consulting Firms
23%
Deloitte (2), Oxera (2)
Financial Services
17%
Banc Sabadell (2)
Research & Academic Institutions
10%
ifo - Institute for Economic Research, Imperial College Business School, University of Warwick (1 student each)
Technology
10%
Intuit, Twaice Technology, Vmware (1 student each)
International Organizations / Non-profits
6%
OECD (4)
Other Industries
5%
BMW Group, Novartis, Shuangchen Information Consulting (1 student each)
97% success rate for students seeking entry to PhD or other post-graduate program
24 graduates who chose to continue their studies have entered the PhD programs organized jointly with BSE at Universitat Pompeu Fabra (23 students) and Universitat Autònoma de Barcelona (1 student). Other graduates in the Class of 2021 accepted places in PhD programs at institutions such as:
The Class of 2021 is working and studying in 28 countries
37% of the class is studying or working in Spain. 45% are located in another European country. 6% of the Class of 2021 is now located in North America, 5% in Asia, 4% in South America, and 2% in Africa.
PROFESSIONAL AND ACADEMIC PLACEMENT BY LOCATION
Countries where 3 or more graduates from this class are now working or studying:
Spain (49)
Germany (19)
United Kingdom (14)
United States (6)
France (5)
Belgium (5)
Italy (5)
Netherlands (3)
Career paths by Master's program
Select a program to view the placement trends for the three most recent cohorts:
Master's Degree in Economics and Finance
Master's Degree in Specialized Economic Analysis
Master's Degree in Data Science
See also
Competencies by Master's Program