study
Career Services organize for students to visit the ECB and EIOPA in Frankfurt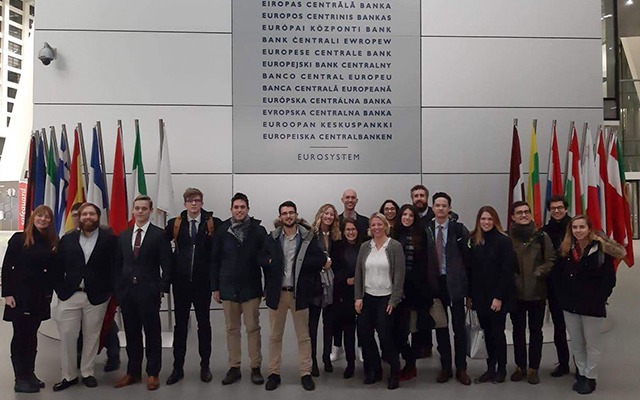 Last week, the Career Services department at the BSE organized a one-day trip to Frankfurt, giving students the opportunity to visit the offices of the European Central Bank (ECB) and the European Insurance and Occupational Pensions Authority (EIOPA), located in the city. This was the first time such a visit had been organized by the School and it was attended by twenty-three current students from the programs in Economics, Finance, Macro, and ITFD.
The ECB regularly recruits from the BSE
The ECB is the largest employer of graduates from the BSE, with currently 40 alumni working there and 10 students from the Class of 2018 joining straight after graduation. Due to the high level of interest from students to work at the ECB, this prompted the Career Services team to organize a visit to their offices in Frankfurt so that the students could get a better understanding of what it is like to work at the bank.
The session at the ECB started with an introduction from Jean-Marc Israël (Head of DG Statistics), followed by a Q&A session with current ESRB trainees. This led onto an interactive presentation on Financial stability developments with Stefan Wredenborg, (Principal Financial Stability Expert in the Directorate General Macro-Prudential Policy and Financial Stability), and a tailored lecture on the ECB's monetary policy and recent economic developments with Arne Gieseke, (Adviser in Division Business Cycle Analysis, DG-Economics).
Exploring opportunities at EIOPA
In addition to the ECB, the Career Services team also organized for the students to visit the European Insurance and Occupational Pensions Authority (EIOPA). This included an introduction to the tasks and functions of the institution from Sylvia Geiger-Cludts (Communications Specialist) and sessions on Financial Stability with Petr Jakubik (Leader Financial Stability Team) and Pan-European Personal Pension Product with Sandra Hack (Principal Expert Financial Stability).
A unique and insightful day for the students
Career Consultant Laurence Penven commented that the day in Frankfurt "gave the students a beneficial insight into the day-to-day working life at the ECB and also EIOPA. Both of these institutions are a good fit for graduates from the BSE, so we felt it would be beneficial for students to experience the work culture first hand and have the opportunity to ask questions to the current employees. This kind of experience will help students to make decisions about their future and strengthen their application if they choose to apply to either the ECB or EIOPA."
Other events previously organized by Career Services for the Class of 2019
> International Organization Events
See also