study
Career Services guides students through the job search during COVID-19 crisis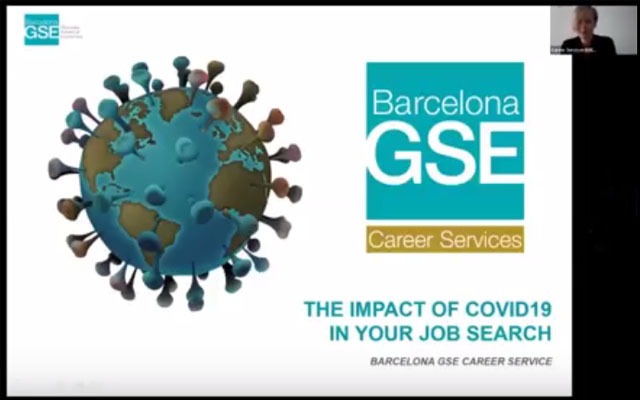 On April 30, the Career Services team at the Barcelona School of Economics presented the webinar, "The impact of COVID-19 on your job search" to Master's students.
The webinar was based on findings from a detailed white paper on the topic produced by BSE Career Services in April. Both the research and the webinar were conducted by Magda Grucza and Ibana Larrubia, the two full-time BSE Career Consultants who provide individual guidance to students throughout the academic year.
The white paper, "COVID-19 and the job search: a snapshot," includes qualitative comments and quantitative data from 60 partner companies and organizations that regularly recruit BSE Master's graduates, meaning that it gives students feedback from many of their target employers on how the pandemic is impacting recruitment processes and summer internship programs.
RECRUITING STATUS OF BSE PARTNER COMPANIES & ORGANIZATIONS

Source: BSE Career Services survey (60 out of 99 partners responded)
Date: 30.04.2020
During the webinar, the Career Consultants shared key findings from their research to create a snapshot of the job market and provide a framework for students to follow at every stage of the job search. They also answered questions from students in a live Q&A after the presentation.
Hires will remain steady or increase for Economics and Finance positions and Data Science job functions
Career Consultants believe that BSE Master's graduates have more reason to be optimistic than most, because the sectors and job functions they tend to focus on will have a stronger career outlook than others, now and in the near future:
GOING STRONG
ON STANDBY
SLOW OR STOPPED
Financial Services
Consulting
Technology
Healthcare & Pharma
Fast Moving Consumer Goods (FMCG)
International Organizations and Non-profits
Government & Authorities
Research & Academic Institutions
Tourism & Hospitality
Retail
Automotive
Sports Business
HOT AREAS ACROSS SECTORS
Economics and Data Analysis
Supply Chain & Logistics / Transportation
Life Sciences
Online Commerce
Crisis Management / Risk Management
Digital
"Despite a general crisis and decrease in job offers, there are still many companies hiring. The job market for economics, finance, and data science positions is not as badly affected as some other professions," BSE Career Consultant Magda Grucza told students during the webinar.
After the online session, students received a resource pack including the full recording of the webinar and a bibliography of more than 50 resources Career Services gathered when conducting research for the report. Athanasios Tsiortas '20 (Economics) found the meeting very informative and helpful. "The webinar helped us to see how the general situation in the job market looks, and I think also seeing that many positions are still open helped and motivated a lot," he said.

Webinars on mobility, visas, and online interviewing skills meet students' changing needs
Career Services also organized other coronavirus-related webinars this spring such as "Master Online Interviews" with external experts and "Legal Advice for Non-European Students Looking for a Job in Spain" with a lawyer, which contained updates as to how things function during pandemic and lockdown.
The team will continue sending updates to BSE students on these and other topics as the pandemic situation evolves.
Extended career support for Class of 2020 during the pandemic
BSE Career Services continues to provide support to Master's students and alumni during the coronavirus pandemic. They are in contact with the students individually and support them in their job search, considering their needs and challenges.
All BSE Career Services resources, tools, and counseling are provided to students until they find their first job. In a typical year, this process takes no longer than six months following graduation. For example, the Class of 2019 achieved 97% career placement within 6 months of completing the Master's.
As an extra measure for the Class of 2020 during the COVID-19 situation, active Career Services support will be extended for as long as students may need it.

Related links
Placement report for BSE Class of 2019
Career Services for students, alumni, and recruiters