study
Career Days connect BSE students with 52 recruiters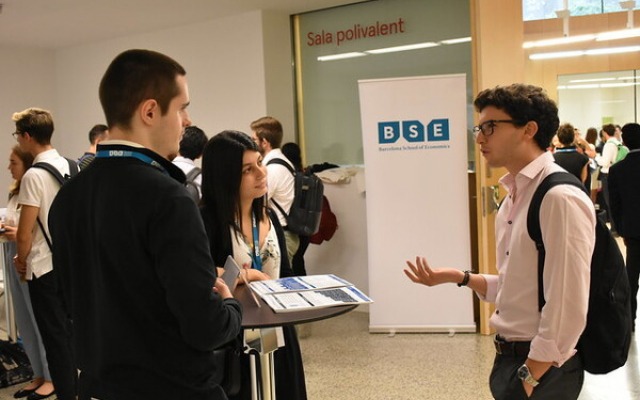 Over 120 BSE Master's students took advantage of three opportunities to meet international recruiters, experienced professionals, and BSE alumni working in target industries.
In October 2022, the Barcelona School of Economics Career Services department organized three recruiting and networking events for the Master's students: a Career Day that was held in person for the first time in 3 years, an online Career Day, and an Alumni Talks day that also took place online.
BSE Career Day (on campus)
The on-campus Career Day brought 16 companies to BSE's Ciutadella Campus (UPF) and provided the Master's students with the opportunity to explore Economics, Finance, and Data Science careers in a productive, one-day format. Over 120 Master's students and 52 recruiters participated in this edition.
Companies that attended Barcelona School of Economics Career Day 2022 on campus
The agenda for BSE Career Day 2022 included:
Company presentations about their available internships, full-time opportunities for graduates, application and selection processes
Networking opportunities during breaks where students could speak directly with recruiters
Case studies in target industries
One-on-one sessions between students and a company of their choice
Several of the recruiters and speakers who came to campus to participate in the Career Day are themselves BSE Alumni. Students had the chance to learn directly from the alumni about their experiences working in different industries, and to understand how their Master's studies are valued across many different sectors.
Career Day is an event that the BSE Careers team has organized annually for the last five years. Each year, the event receives such a positive reaction from students and recruiters that it continues to evolve and develop.
BSE Career Day (online)
The online Career Day was held as a separate event during which the following 10 companies presented at:
BSE Alumni Talks (online)
The Alumni Talks included panel discussions and presentations by 11 Barcelona School of Economics alumni with professional experience in consulting firms, data science jobs, financial services, and international organizations. The alumni are now working for companies and organizations such as Frontier Economics, OECD, Pepsico, UBS and The World Bank. Bea Hernanz, who is Head of Career Services and Alumni at BSE, remarked on the alumni's connection and commitment with the latest generation of Master's students.
"We are so grateful to have alumni who value everything that they learned at BSE and the opportunities it has given them, and that they want to collaborate with us once they are experienced professionals," Hernanz said. "Our alumni are fully committed to sharing their experiences and even job opportunities with current students. This is something that we will continue to nurture so that we can support BSE students in their professional career paths and help them to ultimately secure their ideal job once they graduate."
---
More from BSE Career Services