research
BSE collaborates with the Network of Women Innovating in Science in Africa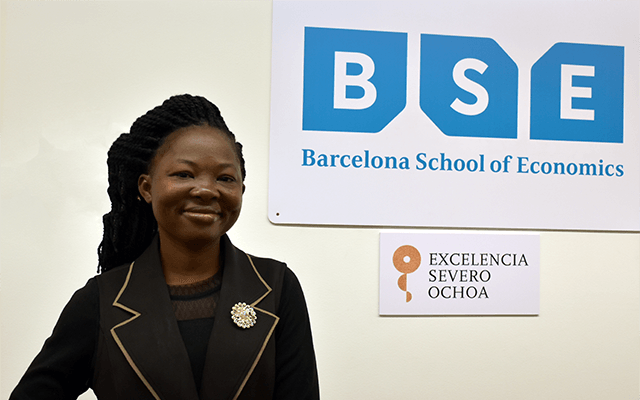 As part of the "Ellas Investigan" program for women in Africa, a total of 26 African scientists have been selected to develop their own projects in different leading research centers throughout Spain. This program is helping to grow and strengthen the "N.O.W is Africa" (Network of Women Innovating in Science in Africa) and promote their work at an international level.
As part of this initiative, Barcelona School of Economics (BSE) is proud to be working alongside other leading research institutes throughout Spain to welcome female scientists from Africa and support them further with their research. Dr Oduntan Oluwakemi from Nigeria will be undertaking her Postdoctoral Research at BSE from which she aims to improve her knowledge in practical research methods allowing her to make meaningful contributions to public-policy in Nigeria at the local, state and national level as well as internationally.
Dr Oluwakemi stated in her research proposal that "Nigeria's population is increasing by around 2.5% with no increase in agricultural output to meet the demands of the population increase. Therefore, the 2030 Agenda's historic commitment to rid the world of the twin scourges of poverty and hunger cannot become a reality if nothing is done about resource productivity of major food crops in Nigeria." During her six months at BSE, Dr Oluwakemi will specialize in agricultural economics and aims to improve her research capability so that she can help farmers and assist the Nigerian government. She will carry out policy oriented research on how to increase resource productivity and improve the welfare of cassava-based farmers in her home country. She also plans to develop specific programs and policies to assist populations that are vulnerable to food insecurity in Nigeria.
Dr Oluwakemi's placement at BSE will also help to promote scientific collaboration and research that contributes to Nigeria and Africa's sustainable development.
Dr Oluwakemi commented "I am excited to be in Barcelona and learn a lot by working in a department that is related to my research and my teaching in Nigeria. The research is complex, but I am looking forward to start at BSE and the opportunities that it will bring".
---
See also