study
BSE Class Profile 2018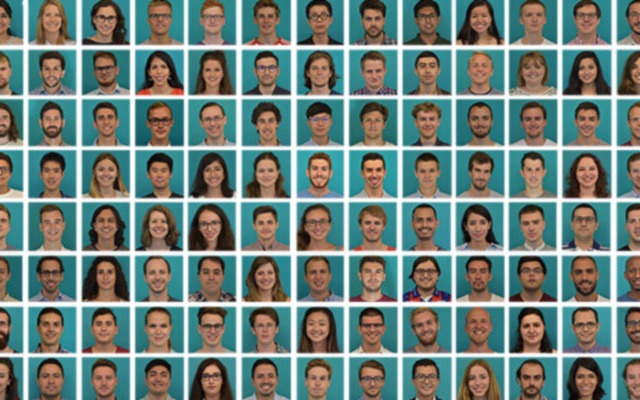 The 2017-18 academic year marks the 11th edition of master's programs at the Barcelona School of Economics. As in years past, the students granted admission to this cohort were selected from a competitive field of applicants from all over the world.
The 238 men and women who matriculated this September come from 54 countries, and before they entered the BSE's classrooms, their CVs already included degrees from top universities and, in many cases, work experience at consulting firms, government agencies, research institutions, and international organizations.
Here is a brief profile of the classmates a student in the BSE Class of 2018 will meet this year:
Academic backgrounds
Most students have undergraduate degrees in Economics or Finance. Others come from Engineering, Mathematics, or other backgrounds. Institutions where the BSE Class of 2018 obtained their previous degrees include many of those at the top of the international university rankings for Economics and Econometrics (QS Rankings 2017).
Universities where some members of the BSE Class of 2018 obtained their previous degrees:
Australian National University (Australia)
Bocconi University (Italy)
Central European University (Hungary)
Columbia University (USA)
Erasmus University Amsterdam (Netherlands)
Georgetown University (USA)
London School of Economics (UK)
Ludwig Maximilian University of Munich (Germany)
McGill University (Canada)
National Research University Higher School of Economics (Russia)
New York University (USA)
Northwestern University (USA)
Pennsylvania State University (USA)
Pontificia Universidad Católica (Peru)
Princeton University (USA)
Tecnológico de Monterrey - ITESM (Mexico)
Trinity College Dublin (Ireland)
Universidad Carlos III de Madrid (Spain)
Universidad Torcuato di Tella (Argentina)
Universitat Autònoma de Barcelona (Spain)
Universitat Pompeu Fabra (Spain)
Université Paris 1 – Panthéon Sorbonne (France)
Université Toulouse I Capitole (France)
University Alma Mater of Bologna (Italy)
University College London (UK)
University of British Columbia (Canada)
University of California, Berkeley (USA)
University of Chicago (USA)
University of Delhi (India)
University of Edinburgh (UK)
University of Illinois, Urbana-Champaign (USA)
University of Mannheim (Germany)
University of Melbourne (Australia)
University of Oxford (UK)
University of Toronto (Canada)
University of Warwick (UK)
University of Wisconsin-Madison (USA)
University of Zurich (Switzerland)
Zhejiang University (China)
Work experience before entering the BSE
While many students joined the master's immediately after obtaining their undergraduate degrees, others took internships or trainee positions before joining the BSE, while some current students have significant professional experience.
Examples of previous work experience in the BSE Class of 2018
Accenture Zürich, Financial Services Intern
Asian Development Bank, Research Assistant
BNP Paribas, Economic Research Associate
Bank of England, Postgraduate Intern
Central Reserve Bank of Peru, Senior Analyst in Financial Stability
Cline Center for Democracy, Content Analyst
Credit Suisse, Credit Risk Analyst
Deloitte, Business Analyst in Strategy and Operations Unit
European Commission, DG Competition Trainee
IMF, Research Analyst in Monetary and Capital Markets
Innovations for Poverty Action Peru, Field Associate
NHS Improvement, Economic Analyst
National Economic Prosecutor of Chile, Chief Economist in Anticartel Division
National Energy Board of Canada, Regulatory Policy Intern
New York State Attorney General's Office, Data Scientist in Consumer Fraud Detection
OECD, Consultant in Structural Policy Analysis
PwC, Mergers & Acquisitions Analyst Intern
UK Department for Business, Energy and Industrial Strategy, Economist
US Federal Reserve Bank of Atlanta, Supervision and Regulation Intern
United Nations Development Program (UNDP), Intern
World Bank Group, Consultant on Health Sector Development Research
Countries of origin
Like all the cohorts before them, the Class of 2018 is very international. Students come from 54 different countries, with 86% of students coming from outside of Spain and 42% of students coming from outside Europe.
Most represented countries (# students):
Spain (33), Italy (29), Germany (23), United States (15), India (11), Peru (10), Russia (10), United Kingdom (9), China (8), Mexico (6)
Number of countries with only one student: 23
View class profiles for each program
Master's Degree in Economics and Finance
Master's Degree in Specialized Economic Analysis
Competition and Market Regulation Program
Economics of Public Policy Program
International Trade, Finance, and Development Program
Macroeconomic Policy and Financial Markets Program
Master's Degree in Data Science