faculty
BSE welcomes new researchers at 19th Trobada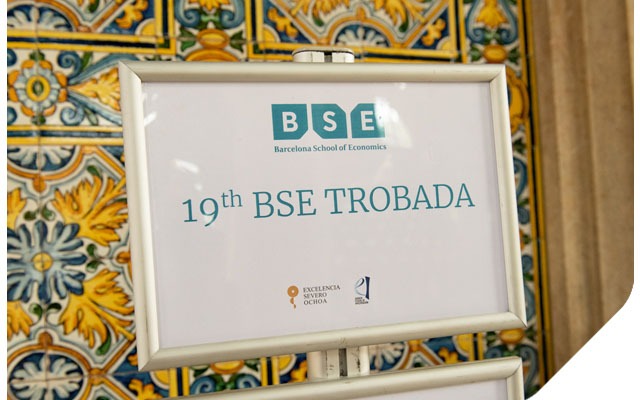 The "Trobada" is a gathering of new and returning researchers in the Barcelona School of Economics community that marks the beginning of the new academic year.
The 19th Barcelona School of Economics "Trobada" took place at UAB Casa Convalescència on October 1, 2021. This BSE tradition is the first research event of the academic year that brings together Affiliated Professors, post-docs, and PhD students from all of the BSE academic units:
The name of the event, "Trobada," which means "gathering" in Catalan, had an especially strong meaning for the community this year because it could be held in-person after many months of virtual seminars and conferences due to the Covid-19 pandemic.
New Barcelona School of Economics Affiliated Professors and post-docs
At the Trobada, the community welcomed three new BSE Affiliated Professors. Affiliated Professors are tenured or tenure-track faculty members at the BSE academic units. The three new Affiliated Professors who have joined BSE this fall are:
Stefano Falcone (IAE-CSIC and BSE)
PhD, ECARES
Research Interests: Political Economy, Development Economics, Economic History
Thomas Neuber (UPF and BSE)
PhD, Bonn Graduate School of Economics
Research Interests: Applied Microeconomics, Behavioral Economics, Applied Econometrics
Fernando Payró Chew (UAB and BSE)
PhD, Boston University
Research Interests: Microeconomic Theory, Decision Theory, Behavioral Economics
With the new arrivals, there are now 152 Barcelona School of Economics Affiliated Professors from 30 countries (51% are from outside Spain). All Affiliated Professors and post-docs, as well as PhD students and visiting researchers, are listed in our Research Directory.
Visit the BSE Research Directory
Research presentations and roundtable
The three new Affiliated Professors presented their research to their new BSE colleagues during the Trobada. The event was also an opportunity to meet Mar Reguant (Northwestern and BSE), who joins the community this year as Barcelona School of Economics Research Fellow. A specialist on Energy Economics, Reguant was one of four participants in the Trobada's closing roundtable, "What is happening in the electricity market?"
BSE Roundtable at UAB Casa Convalescència
Roundtable participants
---
The Trobada is supported by the Severo Ochoa Research Excellence Program (CEX2019-000915-S) through Spain's State Research Agency (Agencia Estatal de Investigación - AEI).
Barcelona School of Economics has been accredited as a Severo Ochoa Center of Excellence in all three editions of the program (2012-15, 2016-19, and 2020-23).