study
Barcelona School of Economics Class Profile 2021-22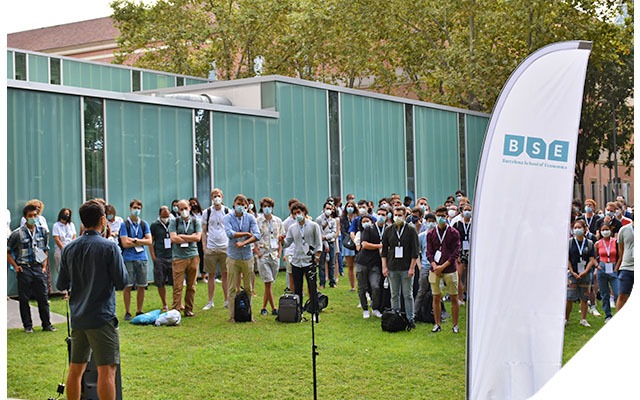 The 15th edition of Master's Degrees at the Barcelona School of Economics is now underway. The 2021-22 academic year brings 248 students who will follow nine different programs of study in Economics and Finance, Specialized Economic Analysis, and Data Science. They are talented students from 51 countries and have diverse academic and professional backgrounds, which will make studying together an intense and enriching experience.
Here is a brief profile of the classmates that a Master's student in the BSE Class of 2022 will meet this year:
Academic backgrounds
Most students have undergraduate degrees in Economics or Finance. Others come from Engineering, Mathematics, or other backgrounds.
Institutions where the BSE Class of 2021 obtained their previous degrees include many of those at the top of the international university rankings for Economics and Econometrics (QS Rankings 2021).
Universities where some members of the Class of 2022 obtained their previous degrees:
Bocconi (Italy)
Indian Institute of Technology (India)
Ludwig Maximilians University Munich (Germany)
Maastricht University (Netherlands)
Nova School of Business and Economics (Portugal)
Peking University (China)
Pontificia Universidad Católica de Chile (Chile)
Queen's University (Canada)
Sciences Po (France)
Universidad Carlos III (Spain)
Universidad de Costa Rica (Costa Rica)
Universidad Nacional Autonoma de México (Mexico)
Universidad Nacional de Colombia (Colombia)
Universitat Autònoma de Barcelona (Spain)
Universitat de Barcelona (Spain)
Universitat Pompeu Fabra (Spain)
University of British Columbia (Canada)
University of Bologna (Italy)
University of Buenos Aires (Argentina)
University of Cambridge (United Kingdom)
University of Copenhagen (Denmark)
University of Delhi (India)
University of Edinburgh (United Kingdom)
University of Manchester (United Kingdom)
University of Mannheim (Germany)
University of Oxford (United Kingdom)
University of Rome Tor Vergata (Italy)
University of Warwick (United Kingdom)
Universidade de Sao Paulo (Brazil)
University of Southern California
University of Sydney (Australia)
Zhejiang University of Finance and Economics (China)
Work experience before entering the BSE Master's
Most of the students has work experience before joining BSE, but there are other students who were accepted to pursue the Master's programs immediately after obtaining their undergraduate degrees.
Countries of origin
All continents are represented in the Class of 2022. This year, students come from 49 different countries, with 86% of students coming from outside of Spain and 44% of students coming from outside Europe.
Most represented countries (# students):
Spain (40), Italy (26), Germany (20), United States (15), India (14), China (13), United Kingdom (11)
Number of countries with only one student: 16
A warm welcome to Barcelona
The new class of BSE Master's students received a welcome and orientation from members of the BSE staff, faculty, and alumni speaker Elliot Motte '21 (PhD Track), who gave the new cohort some advice based on his own experience.
"Upon arriving at the Barcelona School of Economics, I was amazed by the diversity of backgrounds in my cohort. This definitely contributed to fostering an open and very active community. I was also struck by the outstanding quality of the teaching, and the dedication of both faculty members and the administration. Don't hesitate to reach out to professors if you want to deepen your understanding of a specific topic or even for orientation-related questions. And do solicit the administration who is always keen on improving the student experience."

Elliot Motte '21 (PhD Track), PhD Student at UPF
The welcome session was held outdoors in the garden next to the BSE offices at Ciutadella Campus (UPF), with proper health and safety measures observed by all.