study
Five BSE students receive Masters of Excellence scholarships from Fundació Catalunya-La Pedrera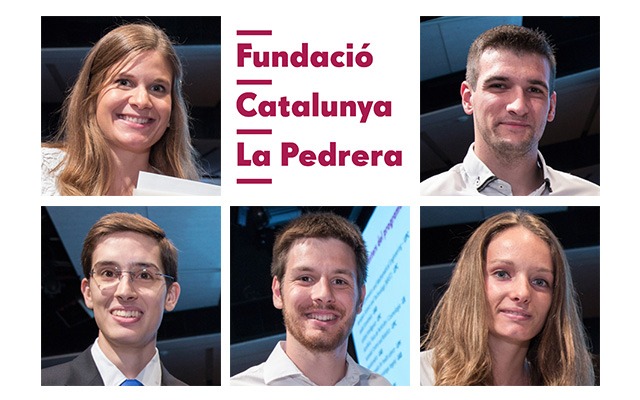 An organisation which recognises and promotes excellence in postgraduate studies in Catalonia has awarded five BSE students full financial aid for their master's programs.
Now in their sixth year, Fundació Catalunya-La Pedrera awards 50 scholarships in 49 master's degrees across Catalonia. Degrees eligible for funding are selected on the basis of outstanding international reputation, quality of teaching and a strong focus on research.
To be eligible to receive a Masters of Excellence scholarship, students must be Spanish and demonstrate excellence in their previous academic studies. All awards are made entirely on merit.
BSE class of 2017 students Alicia Aguilar Fargas (Finance), Miguel Alquezar (Economics), Marc de la Barrera (Economics), Gabrial Bracons (Economics) and M Mar Domenech (International Trade, Finance and Development) were among 50 students to be presented with their awards at a prestigious ceremony at the foundation's headquarters in Casa Milà (La Pedrera), Barcelona.
There to congratulate the winners were Fundació Catalunya-La Pedrera's general director, Marta Lacambra, and area director of knowledge and research, Luis Farrés. Samuel Sanchez, research professor with the Institute for Bioengineering of Catalonia, was also present.
Speaking after the event, Finance student Alice Aguilar Fargas said of her decision to choose the BSE: "My main objective after having professional experience is to focus my career in financial institutions. I decided to do the master in Finance at the BSE as it offers you the necessary quantitative skills to work in high demanding jobs in this area. The good international reputation was also another important fact to take into account."
Economics student Gabrial Bracons said: "I choose the Barcelona School of Economics because it is the best option to prepare me for the PhD that I want to pursue. I know that when I will end my master I will be sufficiently prepared to face my futures challenges."
Marc de la Barrera, also studying Economics, said: "I choose BSE because at European Level is one of the best existing options and at an affordable price. Moreover, in their admission process there is no distinction with economists and other backgrounds like engineers like me, which I think it is very positive. As local, I am proud of having such an institution in Barcelona and such good teachers which you can closely interact given the size of the class."
Marc continued: "I am doing this master with the intention to do a PhD. BSE and their teachers have enough reputation to allow me to go to a top university in the States, which is an option I am considering. There are also top companies and institutions offering internships or pre-doctoral programs, which are very interesting."
International Trade, Finance and Development student M Mar Domenech said: "I chose Barcelona School of Economics because I believe its rigorous and demanding programs will offer me a wide range of theoretical and empirical tools. I expect the program to provide me with the skills to better understand and analyse the most challenging problems of today's globalised economies: my objective is to contribute to society using all these tools."
Economics student Miguel Alquezar concluded: "I joined the Master in Economics at BSE because I wanted to be part of a competitive 1-year program that would provide me with the tools to achieve a top PhD. Its reputation, international community, and intense pace make it an optimal decision for those pursuing academic careers."
Fundació Catalunya-La Pedrera aims to recognise talent and promote excellence in graduate studies and make Catalonia a benchmark in the field of quality graduate studies. Only courses taught entirely in English are eligible to be considered.
For further information, go to www.fundaciocatalunya-lapedrera.com/es/content/becas-masteres-de-excelencia