alumni
Alumni provide tools to students for their careers in financial institutions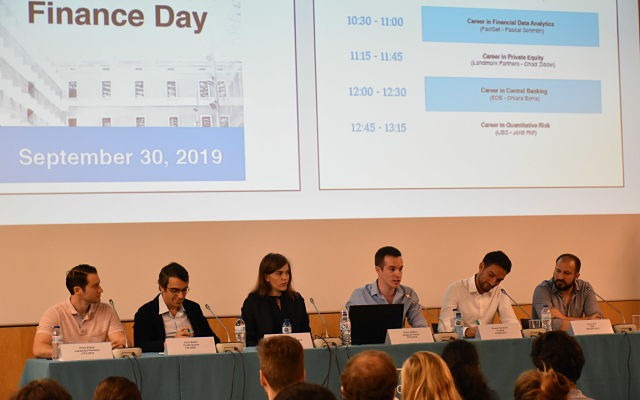 BSE Career Services organized the Finance Day for the second year in a row. This event helps Master's students to understand more deeply the careers in financial institutions. Approximately 50 students attended the event and could meet alumni who are working in areas such as investment banking, financial data analytics, private equity, central banking, and quantitative risk.
A unique opportunity to explore the Finance industry
The Finance Day was an opportunity for all Master's students who are interested in finance jobs. They could resolve all their questions and learn more about how they can develop their skills and profile in order to join the Finance industry.
The objective of the event was to provide students with the tools to help them define their career interests. Current students made the most of Finance Day by doing some networking with alumni. This year, the alumni panelists were:
Pietro Baffico '16 (ITFD), Sovereign and Economic Risk at Goldman Sachs
Chiara Borra '16 (Economics of Public Policy), Research at European Central Bank
Lluís Mateo '19 (Finance), Vice President Healthcare at Credit Suisse
Jordi Rof '12 (Macroeconomic Policy and Financial Markets), Quantitative Economist
Pascal Schmidt '17 (Economics), Consultant at FactSet
Chad Zidow '15 (ITFD), Private Equity Secondaries at Landmark Partners
Acquire finance knowledge at BSE
Alumni panelists were representatives from different financial institutions, so students could have a global vision of the job market. Lluís Mateo, who completed the Finance Program in 2009, has experience in investment departments and believes the Master's covers technical aspects that are needed in the field. "The BSE Master is a very quantitative driven one. Therefore they can fill positions across the divisions of an investment bank: sales and trading, investment banking or asset management," he said during a previous recruitment visit.
Related Links