alumni
Eye on Alumni Interview: Thembalethu Sithebe '13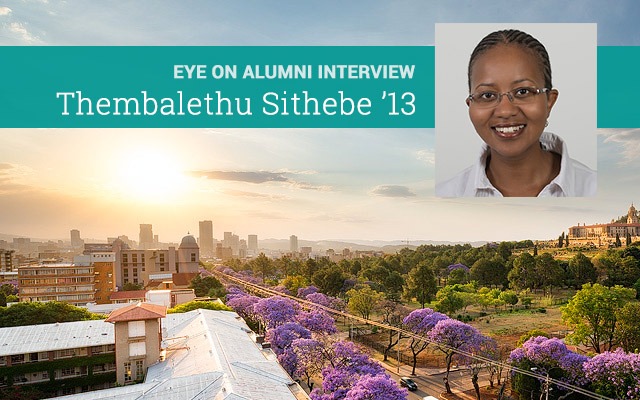 Thembalethu returned to South Africa with her Master's in Competition and Market Regulation and put it to work first as a competition economist at a leading consulting firm, and then as a senior economist at the country's Competition Commission.
Describe your career path since graduating from the BSE.
Following my graduation at the GSE in 2013, I returned to South Africa and continued to work as a competition economist in one of the leading economic consulting firms specialising in competition, Genesis Analytics. A year later, I moved to the Competition Commission of South Africa. As a senior economist in the Policy and Research Division, I work with case teams in structuring the economic evidence and analysis required for the complex enforcement and merger investigations the Competition Commission focuses on. I also contribute extensively to the division's research output in the form of impact assessments, scoping studies as well as commentary on competition policy matters which arise.
Tell us about your most challenging or memorable project so far.
I was lucky enough to work on an abuse of dominance complaint involving a pay - TV broadcaster in South Africa, Kenya, Botswana and Namibia. This project allowed for me to travel immensely across Africa (which was a dream come true) and gain exposure into the mechanisms of television broadcasting. This project was challenging as not only was there a lot to learn within a short space of time but conducting an assessment of the likely competition effects across each country proved to be slightly difficult due to the fact that each country had its' own competition and policy regulation framework in which we had to conduct our assessment. This project also provided an opportunity to test the competition concepts and theoretical models learnt as we had to hypothesise and prepare a defence on the various theories of harm which would be investigated by the authorities.
How did the master program prepare you for the work you're doing now?
The Masters provided a good foundation for me to work as a competition economist. I apply all the skills learnt in the Masters in my every day job. The rigorous theory learnt has helped to set me apart from my peers as I am able to explain difficult concepts in a simple, intuitive manner. It has also provided me with the key tools needed for any competition economist to excel in this field of work. Tools such as a thorough understanding of economic theory, the ability to apply a particular theoretical model to a case, as well as the tools needed to analyse the data and merits of a case in order to assess if the theory is applicable to the relevant case.
Is this more or less what you pictured yourself doing after the master program?
Yes, this is exactly what I pictured myself doing.
What hints or advice would you give to current students who want to follow this career path?
This is a very exciting and fast–paced field of work. It can be demanding but it is very rewarding to know that the work you do has a real impact on how firms conduct themselves in the market place. The variety of cases means that you will always learn something new – this can be challenging at times so be prepared to constantly be reading and referring to literature to help you to structure your analysis in the best way possible. The Masters does provide a good foundation on which to build your career as a competition economist. I strongly recommend to all current students that they should take full advantage of all the courses provided by the Masters especially the Economics of Competition Policy, Industrial Organisation (if you can, take the advanced Micro Theory class too!) and Quantitative Analysis classes.
What do you miss most about the BSE?
I miss the friends I made there as well as the general comradery we had amongst ourselves (we definitely worked hard and partied even harder together). I also miss the guidance that was easily available from all the lecturers and professors teaching the Masters. And obviously, I do miss living in Barcelona.
Connect with Thembalethu on LinkedIn
---
Interview conducted in January 2016. Which alumni should we interview next? Suggest a classmate via email
---
Related information:
Master's Program in Competition and Market Regulation