alumni
Eye on Alumni Interview: Jebb Peria '10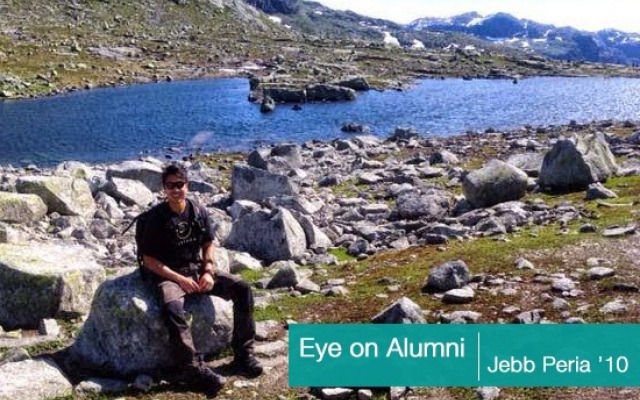 Update: since giving this interview, Jebb has joined EV Private Equity as a Senior Analyst.
---
This Finance alum headed to Norway after graduation, where his career path has taken him from an internship at Statoil to his current position as Senior Associate at PricewaterhouseCoopers.
What has been your career path since graduating from the BSE?
After graduating from the BSE in 2010, I accepted a summer internship position in Statoil in Stavanger, Norway. My main responsibility was to perform statistical analysis on gas and electricity prices in North Western Europe.
After the summer internship, Statoil offered me to be part of their 3-year Corporate Graduate Program where I get to work in three different positions within in Statoil. In those three years, I worked at the Corporate Finance, Business Development and Downstream departments. Tasks ranged from investment analysis, commercial valuation, and modelling of conventional and unconventional Oil & Gas plays in Norway, US and Canada. I have also been involved in valuation and modeling of gas-to-power contracts and gas sales contracts in Europe.
After four years in Statoil, I decided to move in February 2015 to PricewaterhouseCoopers (PwC) Deals where we do M&A, financial and commercial due diligence, valuation and modelling. Due to my Oil & Gas industry experience, I am mainly involved in M&A and Divestment deals within the O&G industry.
Tell us about one of your most memorable projects so far.
The most exciting and challenging project I have worked on was an acquisition project in the US. Working in a team composed of different disciplines (geologists and geophysicists, reservoir engineers, production engineers, tax, legal, accounting, HR) with a short timeline of 1-2 weeks, it demanded a lot of team work, discipline, a steep learning curve and an engineering dictionary. I find these kind of projects exciting and challenging due to time pressure, the non-routine nature of the job, and the necessary teamwork to succeed.
When you entered the Finance master, was it your objective to work in this industry?
Yes (Financial services industry) and No (O&G industry). Growing up in Canada's financial capital and having previously worked for RBC Dexia, working in Bay Street or Wall Street was the ultimate dream. It never crossed my mind, however, to work in the O&G industry until the Statoil opportunity presented itself. The experience I gained in the O&G industry greatly helped me land a job in PwC.
How has the master been useful for you in your professional career?
The Finance master has provided me a very strong foundation for my professional career. The courses (stochastic processes, continuous time finance, empirical finance, corporate finance, financial engineering) have equipped me with tools needed in financial modelling and economic analysis my job required.
Are you able to keep in touch with your classmates from the master?
Even though BSE alumni are spread out all over the world, I try to stay in touch. I have met up with some alumni in London, Barcelona, and Vienna.
What hints or advice would you give to current students who want to follow a career path like yours?
Learn the (financial) tools taught by the excellent faculty and world-class professors, know when and how to use these tools, and continuously build (and maintain) relationships. Every task is about problem solving and decision-making, and these tools will help you in your everyday tasks. Building relationships and creating your own network is of great importance. To those who really want to have an advantage, learn new languages. Learn Spanish, Catalan, German, or any other languages. In addition, learn programming languages such as VBA. Be damn good in Excel.
Jebb at Trolltunga (Troll's Tongue) in Norway
---
Interview conducted in June 2015.
Which alumni should we interview next?

The next "Eye on Alumni" interview could feature you or one of your classmates. Tell us which graduate you think we should interview next: community@bse.eu