alumni
Eye on Alumni Interview: Cecilia Nardini '13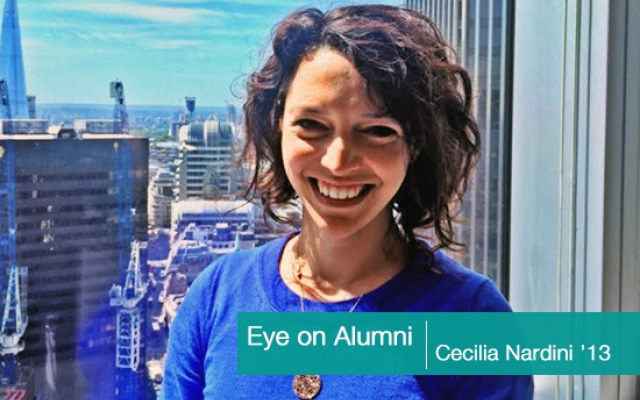 This Competition and Market Regulation alum works on high profile competition cases in Europe and internationally – sometimes against her former BSE classmates!
Tell us about your consulting work.
After graduating from the Competition and Market Regulation program, I joined Charles River Associates, one of the leading economic consulting firms specialized in competition. I have now been in the London office for almost two years, working as a Senior Associate.
The most challenging project I've had so far has been an abuse of dominance case in telecoms. The core of the case was a terribly complicated modelling which I was responsible for; modelling the business of our client was not only complicated from a conceptual point of view, but also from the point of view of implementation on the software. It required endless exchanges with the client and very extensive discussions internally – complicated by the fact that the case team was spread between London, New York and Sydney: imagine crossing time zones to find a time of the day that would suit everyone for a call! The intense phase of the modelling lasted for about a year, and the case is still ongoing, so this was (is) definitely not only a challenging but also a memorable experience.
How did the Competition master's program prepare you for the work you're doing now?
The program gave me an excellent preparation for this job. Not only did I feel it was extremely useful for passing the interview, but also, through the combination of theoretical lectures and the many (and some!) hours spent on problem sets and practical applications, it provided me with exactly all the tools I needed for this work: ability to frame a case into a theory, and then to analyse the data to understand if they support or reject that theory.
Is this more or less what you pictured yourself doing after the master program?
Yes, I have been very lucky!
What hints or advice would you give to current students who want to follow this career path?
Be ready to work hard! This job can be extremely demanding, but it is also very rewarding. The variety of cases we work on keeps it very interesting (and constantly challenging – every day you learn something new), and the fact that we work on the majority of high profile competition cases in Europe and internationally makes you feel you are doing something that matters.
Are you in touch with other BSE alumni in the London area?
Yes, there are many GSE alumni in London, and many from Competition and Market Regulation, and we meet regularly. I have also worked on the same case as one of my ex-classmates, but for the client against his – so it can well happen that you are together for a night out one day, and sat in a meeting at the opposite sides of the table the next day.
What do you miss most about the BSE?
I think what I miss most is my class. Nothing can beat the bonds that are created spending days and days (and sometimes nights) together preparing for exams...and partying when exams are over.
---
Interview conducted in June 2015.
Which alumni should we interview next?

The next "Eye on Alumni" interview could feature you or one of your classmates. Tell us which graduate you think we should interview next: community@bse.eu