alumni
Eye on Alumni Interview: Cristian Bulete '13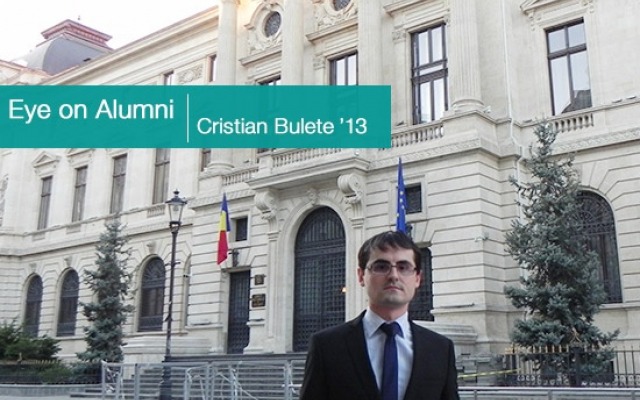 This graduate of the Master in Macroeconomic Policy and Financial Markets is Senior Economist at the National Bank of Romania. His department is developing a DSGE model that will be used for policy analysis and forecasting.
Tell us about the transition from graduate student in Barcelona back to economist at the central bank in Bucharest.
In a way, it was smooth mostly thanks to my friends here as well as a new projected I was involved in at my job. Namely, for the last 12 months I've been a part of the team within the Macroeconomic Modeling and Forecasting Department that is responsible for developing and implementing a new model for Romania, to be used for policy analysis and forecasting. It is a Dynamic Stochastic General Equilibrium (DSGE) model, which is considered the state-of-the-art in macroeconomic modeling nowadays in central banks and policy institutions. So far it has been a very rewarding activity, allowing (and requiring) me to deepen my knowledge in this exciting field. At the same time it also provided a gradual transition from the academic life, as I was able to stay in contact with the things I used to do as a student, for example reading very influential papers. We macro guys like it. I enjoy it a lot because it is basically (policy oriented) economic research.
Developing a new macro model for the bank sounds like quite a challenge.
Working in a central bank does certainly not lack challenges. We enjoy a lot the fact that we encounter new challenges while working on the DSGE project almost on a daily basis, and thus constantly have to come up with creative solutions. However, I don't deny there are moments we wish certain issues were straightforward.
Nevertheless, my activity prior to the above mentioned project was very interesting as well. I was involved in preparing quarterly macroeconomic forecasts for the Inflation Report, various policy notes, materials for the European Central Bank. It can be quite satisfactory to know that your output assists policymakers in important decision processes, even if sometimes to a smaller degree.
Was it worth it to take a year away from work to get your masters?
Definitely. This is something I would recommend people to do. And it is not a singular opinion, as I remember more than half of my classmates had prior work experience. It's a type of pursuit of knowledge I think most employers, including mine, encourage and appreciate. Although in the end it is more about the rigorous academic training, which is a great investment both in the short and the long run.
In my case, I would say basically all the courses have been useful, with special mentions to those on Macroeconomics (Monetary Policy), Computational Methods, and (Bayesian) Time Series Econometrics. But the BSE experience was not just about the class contents. One thing I particularly appreciate was the way teachers encouraged us to work together. I believe that the best way to fully understand something is by explaining it to others, and this helps me a lot in my job.
Is this more or less what you pictured yourself doing after the master program?
I think so, yes. During the academic year I was lucky in a way, because I was able to focus on the program, without concerns about further steps, looking for jobs or internships like my colleagues needed to. However, at one point during the program I did ponder continuing my education with a PhD; so back then I pictured myself doing research that would have been less policy-oriented than the research I'm doing at my job now.
Any plans to get together with other alumni any time soon?
In my travels abroad I often meet up with GSE people, either alumni or teachers. From time to time, a few people in our class organize small reunions. The next one will be in Milan this summer, so we'll get a chance to see the Universal Exposition.
Looking back, what do you miss the most about your master year?
It's very hard to say. Everything: the academic environment, the international community, the social interactions with the colleagues and some of the teachers, the amazing city, the weather…It's simply impossible to rank them. I truly found it to be an enriching experience and I am still reaping its benefits.
---
Interview conducted in April 2015.
Which alumni should we interview next?

The next "Eye on Alumni" interview could feature you or one of your classmates. Tell us which graduate you think we should interview next: community@bse.eu