faculty
Albert Marcet awarded 2016 Rei Jaume I Prize in Economics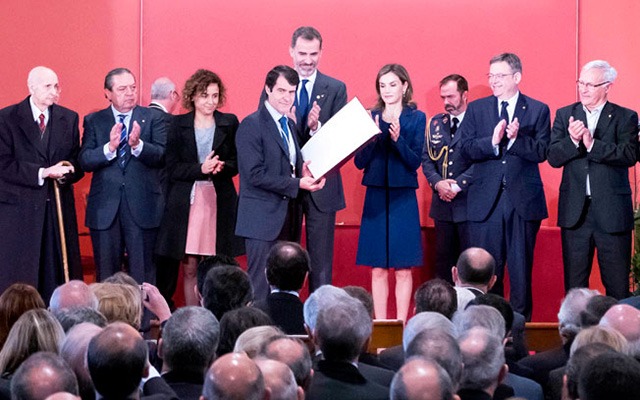 The prestigious award is given annually by the Government of Valencia and the Valencian Foundation for Advanced Studies to recognize significant contributions by top Spanish scientists.
BSE Research Professor Albert Marcet (ICREA-IAE and BSE) has been selected to receive the 2016 Rei Jaume I Prize in Economics for his macroeconomic research that has contributed to "improvements in the analytical instruments used by central banks and governments."
The winners were announced on June 7 at the Palau de la Generalitat in Valencia, at a ceremony attend by the President of Valencia, Ximo Puig.
Established in 1989, the Jaume I awards are funded by the Government of Valencia and the Valencian Foundation for Advanced Studies (FVEA). It is given annually to six researchers for their contributions in the areas of General Research, Medical Research, Environmental Protection, New Technologies, Urban Studies, and Economics. Recipients are chosen by a distinguished committee of academics and researchers, which included 23 Nobel Laureates this year.
Since the creation of the Economics award in 1991, four BSE Research Professors have received the prize: Albert Marcet this year, Salvador Barberà (UAB and BSE) in 2008, Joan-María Esteban (IAE-CSIC and BSE) in 2007, and Jordi Galí (CREI, UPF and BSE) in 2004.
In addition to Economics, the award is given in five other categories. This year's other recipients were Miguel Bastos Araújo (Environmental Protection), Elías Campo Güerri (Medical Research), Hermenegildo García Gómez (New Technologies), Alberto Gutiérrez Garrido (Entrepreneurship), and Francisco Martínez Mojica (Basic Research).
Each recipient receives 100,000€ and a medal from the Valencian Government and FVEA. The award ceremony will take place next fall, with the participation of a member of the Spanish royal family.
Watch the award announcement (in Spanish)
Watch the interview about Prof. Marcet's work (in Spanish)
Rei Jaume I Prize Foundation page about Prof. Marcet's award
About Albert Marcet
Albert Marcet (PhD, University of Minnesota) is ICREA Research Professor and Director of the Institute for Economic Analysis (IAE-CSIC) and AXA Research Chair on Macroeconomic Risk at the Barcelona School of Economics. Previously, he was Professor at the London School of Economics (LSE) and Universitat Pompeu Fabra (UPF).
Professor Marcet is a Fellow of the Econometric Society and Research Fellow of CEPR. He has also served as President of the Spanish Economic Association (2007).
In 2013, he received an Advanced Grant from the European Research Council (ERC) for his project, Asset Prices and Macro Policy when Agents Learn.
Professor Marcet was the first Director of the BSE Master in Macroeconomic Policy and Financial Markets. He now serves as its Scientific Director and teaches master courses in the program. He is also a faculty member of the International Doctorate in Economic Analysis (IDEA) organized by UAB and BSE.
Media coverage