research
2022 BSE Summer Forum: again in person!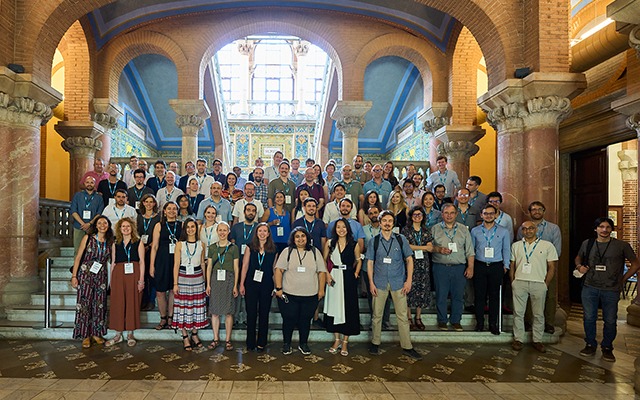 ---
"Over 700 participants from 194 institutions of 27 countries participated in the first face-to-face edition since the pandemic."
The 2022 edition of the Barcelona School of Economics Summer Forum, the ninth of the series, took place from June 7 to June 21. This year's edition featured up to 32 different workshops encompassing academic and research topics in economics and directly related subjects.
This was the first edition of the BSE Summer Forum held in person since the onset of the pandemic. The Forum gathered numerous enthusiastic participants, including prominent researchers in the areas presented. Over 100 people were year involved in the organization of this long-awaited Forum, once again in person.
The 2022 BSE Summer Forum in numbers
Over 700 participants
32 workshops, with a total of 63 days of total session time
194 institutions from 27 countries represented
17 central banks and international economics organizations
421 papers presented (1,659 submitted to the open call)
Complete list of the BSE Summer Forum 2022 Workshops:
Photo Album
A glimpse of #bseforum on Twitter:
Find out more about the event on Twitter via the BSE Summer Forum hashtag: #bseforum
Great crowd, great research, great location #bseforum pic.twitter.com/rSyhKOPPA1

— Isaac Baley Gaytán (@isaacbaley) June 14, 2022
Second day of this amazing workshop on Expectations in Dynamic Macro Models kicks in. Received brilliant feedback yesterday during my presentation. #bseforum pic.twitter.com/TE5gjBnV4L

— Adrian Ifrim (@ifrim_a) June 17, 2022
Great workshop on expectations formation at #bseforum. Hope it becomes a regular feature if the summer forum! Learning, belief formation, expectations measurement -> in Macro. https://t.co/CMnhH4crkE

— Luis E. Rojas (@luiserojasd) June 17, 2022
Couldn't wait to thank all participants of the 4th "Income Dynamics and the Family" #bseforum workshop, co-organized with Chris, Fabian, & @NezihGuner.

Check our final program for the latest (mostly macro+structural) research on family, labor, & beyond: https://t.co/AgvEtN8ny0 pic.twitter.com/EDUKHjXfy3

— Rocío Madera (@elpuntoderocio) June 21, 2022
Barcelona, the place to be - thank you @LibertadGonLu @UPFBarcelona for hosting & showing us what a thriving place is the Barcelona School of Economics @bse_barcelona - #BSEForum https://t.co/aW7TdNJbXM

— Stefanie Schurer (@StefanieSchurer) June 20, 2022
Excellent workshop on #migration at the #bseforum at @bse_barcelona! Congrats to the organisers @farre_lidia, Jesús Fernández-Huertas Moraga, @AdaFerreriCarbo, Albrecht Glitz, @AndreGroeger and Joan Llull. More info: https://t.co/0bgEmNtGax pic.twitter.com/nsv3dtfXFu

— Sunčica Vujić (@SuncicaVujic) June 14, 2022
A summary of the great first day of Advances in Micro Dev workshop at the #BSEforum

Great presentations and fantastic organization (In Barcelona it can't go wrong....) https://t.co/tT4e41vR23

— Dany Jaimovich (@djaimovi) June 8, 2022
Barcelona never fails to impress! Loved presenting and participating in #bseforum. Thank you to the organizers! Updated to-do list: write a paper to submit next year. pic.twitter.com/W8uY0ABf5x

— Kathleen McKiernan (@k_mck04221) June 11, 2022
---
The BSE Summer Forum will in 2023 return to Barcelona!
The organizers plan to hold the next edition of the BSE Summer Forum again in person in June 2023 , we hope to see you there!
Sign up to receive Summer Forum email alerts
---
The Summer Forum is one of the BSE research initiatives supported by the Severo Ochoa Research Excellence Program (CEX2019-000915-S) through Spain's State Research Agency (Agencia Estatal de Investigación - AEI).
The BSE has been accredited as a Severo Ochoa Center of Excellence in all three editions of the program (2012-15, 2016-19, and 2020-23).