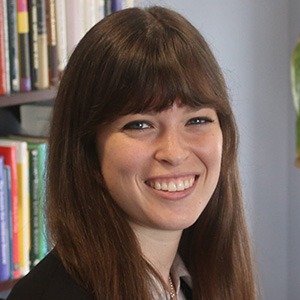 Originally from
United States
Currently living in
United States
Rebecca Lavinson (Economics of Public Policy '14) is a Policy Associate at the American Youth Policy Forum in Washington, DC.
Her first position after graduating from the BSE Master's was an internship at the Organization for Economic Cooperation for Economic Development (OECD) within the Center for Tax Policy (CTP). From there, she moved on to work on education policy as a consultant at the OECD for two years, first within the Education Directorate with OECD countries, and later within the Latin American Unit of the Development Center on education policy within Latin American countries. After the OECD, she worked as a freelancer, first for UNESCO within their Education Sector and later for the National Institute of Education, Singapore, all while living in Paris. She joined the AYPF in 2018.
She has a BA in Economics and an MA in International Economics and Finance from Brandeis University.
Interview
"I believe that the BSE gave me the start I needed to pursue the work that I am passionate about. It provided me with the skills necessary to succeed at my first job at the OECD, and doing my Master's in such an international environment was a good signal for employers that I could adjust to any type of work environment and work with colleagues from different backgrounds. It also meant that I had a broader perspective on policy issues and was aware of more possible solutions than just what exists within one country. My knowledge of policies and best practices is not determined by where I come from, but rather has been informed by the diverse interactions I have had with my BSE peers from all over the world."